How Many Pages Should My Website Have?
Firstly, you can have as many pages as you like.

Secondly, Google ranks pages, not websites as a whole. Therefore this is an important question if you are planning on using Search Engines as a tool to bring visitors to your website.

Generally, a website's Home Page is the most likely to show up in general searches for you or your business. However longer, more specific searches, may show other pages from your website. For example - 'Jane Smith Web Design' will likely show her Home Page, but 'Jane Smith Graphic Design', may show another page where the content is about the Graphic Design Jane does, as part of her Web Design work. It's important for Jane to have a dedicated Graphic Design page, to bring visitors and searchers who are looking for that specific service. Without that specific page, Jane may not rank at all for Graphic Design.

This is a question with two preambles:-
First scenario:-
If your goal is to have your website as an online business card - a place you send people to for more information using your web address; a place others refer their friends to specifically; you advertise on Social Media and use your web address; you advertise at Expos etc by handing out cards and vouchers; and you are not particularly concerned about ranking in search results, then the number of pages and the optimised content on each page, is not such a pressing issue.

Second Scenario:-
If your goal is to have your website cover the above, but also rank as highly and effectively as possible bringing click through results from online searches, we need to consider more carefully and intentionally, the number of pages you have, and the quality of content on each of those pages.

Common to most websites are: Home, About, Contact, Services, Testimonials, Events, Classes, Workshops, Bookings etc.
Here are some points and good ideas when thinking about your web site pages.
Each page should have one topic, one subject
Each page therefore should have specific content, keywords, phrases and synonyms related to that one topic
The more pages you have, the more topics Google will connect you with, and the more topics you will appear for in search results
The Home page is generally about the business overall, a broad explanation of the whole website
The About Page is more about you, your journey, your chance to say hi and introduce yourself personally
You may have just the one service, or you may have five or more types of work you do within your business. If you are a healer offering Reiki, Massage and Vibrational Healing. Have a general Healing Page, and a page for each modality
Have an FAQ page regarding these types of healings
If geography is important - have a page representing the locality of the business
If you blog through Wordpress etc, also have your blogs copied to your site somewhere as articles or archives. It's a wonderful way to add rich content to your site with very little extra effort
What if I have too many pages, where will all the links be and how will people find them?
Smart navigation and sensible website layout allows you to have as many pages as you like. I have websites with over 700 pages. These are small business websites trying to rank well for specific suburbs. Therefore, there is a page for each suburb. The content is generally the same, but the suburb names are spread throughout each page and in the code tags at the top of each page. Generally when someone is looking for carpet cleaning, they mention their area in their search query, and having those pages focused on locality, brings area specific results in searches.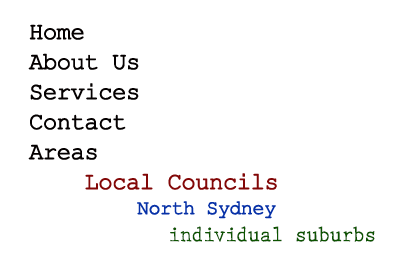 These websites have tiered sections that are logical and user friendly. No drop down menus necessary. The suburb pages have only one link within the main section of the website (Areas). They are purely for catching searchers using very specific key words by giving Search Engines locality specific content to work with.

Even though the suburb specific pages are more toward the back end of the website, the Search Engines can still find, index and rank these pages, so someone searching for "Carpet Cleaning Parramatta", will find pages with Parramatta in the content, and enter the website through that page.
So how do I start working my pages out?
Again, see yourself an an author, and your website as your bio. Map out what you do know you want and need on your website. Break things up into sensible portions, topics and content. Draw a mind map, use sticky posts, napkins etc. Don't worry at this stage if it's a little disjointed. Often things become clear when they are on screen, rather than on a piece of paper.

Once online, you can start to move around the site, and you will see best how the pages work together as whole, yet separately tell their own little story. It will be easier to see what needs separating and where you need more content. Focus on any topic you have not covered that is important to your business, and just add a new page.
I Recommend

I Recommend

---

MALWARE - STAYING SAFE ONLINE
HTTPS://
DOMAINS and HOSTING
MY WEBSITE
WEBSITE CODE and SEO
DEFINITIONS