Mobile Friendly Websites
Visitors who access your websites through mobile devices are happy as long as they can easily move around, get the information they want, and enjoy their visit. Great mobile websites should still be visually inspiring, easily navigated, not need shrinking to view the entire page, and function in much the same way as the website does on a desktop.

However as a business and website owner, you need to understand the difference between the design options. Adaptive Web Design is more complex than Responsive, however as websites are mostly 'designed for mobile users first' it is now the most Google friendly, and best formula for web design.

There were, three options to choose from when building a Mobile Friendly Website.
Responsive Websites
Responsive Website Design (RWD) is the method I have previously used and was Google's favourite. It works on the principle of flexibility - a single fluid website, using only one set of instructions (a css style sheet) to display the website. The style sheet is coded so the website displays correctly on any device. Responsive websites flex and change based on a multitude of factors. The website should shrink and expand to fit the device being used to view it, and should 95% display the same on Desktops, Laptops and smaller devices.
RWD is the simplest option, yet is now considered old school
Responsive Web Design produces an almost 100% overall universal look, keeping your customers and visitors comfortable and clear about what to do when visiting the site on a device other than a computer, however the main content writing can be small and hard to read without enlarging, and links too small to easily click on
One set of rules covers all devices, easily crawled and indexed by Search Engines, and any changes to the design of your website are done on just one page, covering all devices
When a new iPhone launches with never before used screen dimensions, the website automatically displays correctly, due to the built in, one-stop shop fluidity
Adaptive Websites - My Choice
Adaptive Design is "mobile first" design I now use and is based on the fact people use smaller screens over laptops and desktops to access the internet. (Google calls this dynamic serving) uses multiple sets of instructions (css style sheets). Instead of one flexible design, adaptive design detects the device/screen size, and then provides the appropriate style sheet to display the website. This means multiple options for display must be built into the website.
Adaptive Website Design allows for fine tuning of every aspect of the website so it is user-friendly on all screens
Multiple versions of sections and pages are used (not multiple websites) to keep everything visually pleasing and usable
Content is bigger on phones, links are bigger and easier to use, images and styling is adjusted to suit
Therefore it does take more time to edit and make changes to the website, because you are often changing the same information in two places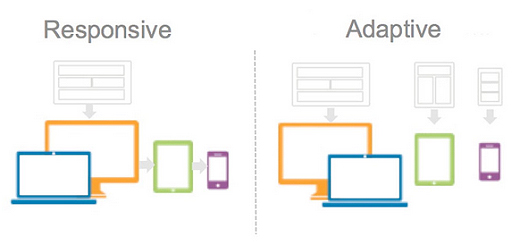 Mobile m. Websites
A separate Mobile website (m.dotcom) with the URL m.yourwebsite.com can be built specifically for mobile devices. This website is not used for Laptops or Desktops.
You will need to maintain the desktop site at www.example.com and the mobile version at m.example.com if you have a mobile website. Changing the details on one, will not change it on the other. Whoever is updating/editing your website, has to make any changes twice.
Sacred Spaces packages include full mobile adaptive websites. Costs reflect the difficulty and time involved, and if you website is larger than standard or more complex, the cost may be more than the standed price listed in the Terms and Conditions.
I Recommend

I Recommend

---

MALWARE - STAYING SAFE ONLINE
HTTPS://
DOMAINS and HOSTING
MY WEBSITE
WEBSITE CODE and SEO
DEFINITIONS